Hearts Free
Shoot the Moon!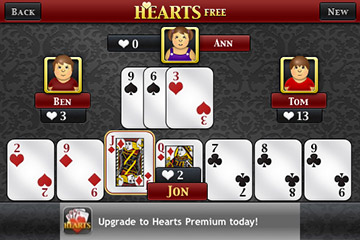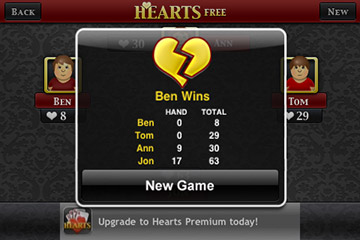 The classic card game Hearts is now available on your mobile device. With rich graphics and smooth animations, Hearts Free is the premier Hearts app available for mobile - and best of all, it's free.

Try to stick your opponents with as many hearts as possible, while avoiding hearts yourself. Watch out for the Queen of Spades, she'll ruin your day!

Hearts Free features an outstanding artificial intelligence engine. Three different difficulty levels ensure that you can play against a computer opponent that matches your skill level.

If you've been waiting for a killer Hearts game for your mobile device, this is it. Download Hearts Free today and check it out!
More Free Games!
Need Help?
If you experience an issue with any of our products or you want to provide feedback, please contact us.
We'd love to hear from you about new games or features you'd like to see us deliver. We're always open to new ideas.
Contact Us